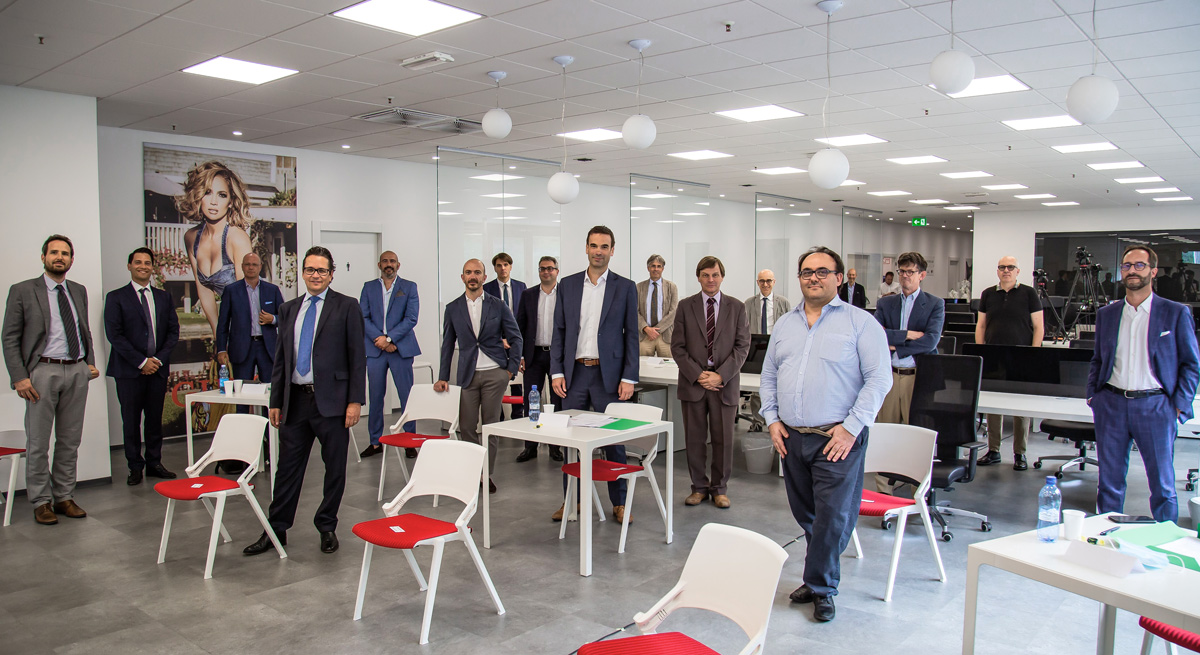 The LifestyleTech Competence Center Association begins...
Accenture, Bally, Dagorà, Guess, Hyphen, Loomish, Microsoft and Swiss Universities SUPSI and USI found LifestyleTech Competence Center Association
Lugano, July 16th 2020
The LifestyleTech Association aims to promote and support innovative companies that conduct research and development in the LifestyleTech sector. This will directly benefit Ticino as a tech business destination and promote innovation and job creation in the region.
Today the nine founding members Accenture, Bally, Dagorà, Guess, Hyphen, Loomish, Microsoft, the Scuola universitaria profesionale della Svizzera italiana (SUPSI) as well as the Universita della Svizzera italiana (USI) announce the foundation of the association "LifestyleTech Competence Center". The association is located in the Dagorà Innovation Hub, a co-working space in Lugano.
A LifestyleTech Competence Center for Ticino
The association aims to promote synergies between relevant partners and to create a center of excellence for the lifestyle industry that supports the organic growth of the community at Swiss and international level. In particular, the association aims to promote cooperation between companies and academic institutions and the transfer of technology and knowledge.
The Competence Center will support and co-finance:
• Research and development projects,
• The creation of equipped innovation laboratories,
• Scouting activity of scale-up technologies around the world,
• Community building, events and workshops.
It is therefore all the more important that, in addition to internationally renowned brands from the fashion and technology sectors, two universities are also among the founding partners.
I am delighted about the foundation of the LifestyleTech competence centre. It is perfectly in line with the economic development strategy adopted by the Canton, and confirms that Ticino is a canton that is strongly committed to innovation and capable of attracting new companies, new skills and new investments, thanks to the presence of numerous avant-garde companies and internationally renowned research institutes.
Stefano Rizzi, Director of the Department of Economy of the Canton of Ticino and Vice-President of the Agire Foundation
 "It is an honor to be appointed president of the LifeStyleTech Competence Center. Since its ideation we have experienced an extraordinary engagement from universities, investors, brands and tech companies in the creation of an Innovation Hub for fashion, food, design and travel sector. I believe that the association will become a point of reference in the European innovation landscape and will attract many investments and research projects in our Canton"
Carlo Terreni, President LSTCC & CEO Loomish Investment Management
"In the 21st century knowledge is not only to be found in research institutions, but it is distributed more largely. Hence structured cooperations with companies are very important for USI, as they enable to extend our expertise and to create added value in the region.  We are happy to strengthen our presence in a sector in which we are already involved – for example with the Master in Digital Fashion Communication, offered in collaboration with Université Paris 1 Panthéon-Sorbonne in Paris – and we are committed, from the outset, to championing Swiss talent in the fashion industry. One concrete example: we will soon support the online communication of the Bally Shoe Museum, which in Schöenwerd exhibits one of the largest collections in the industry".
Boas Erez, Rector of Università della Svizzera italiana
"SUPSI is highly motivated to contribute to valuable initiatives oriented to support the economic and innovation capacity of Canton Ticino, therefore we are glad to be part of the LifeStyle Tech association and look forward to its future activities and added value."
Franco Gervasoni, General Director of SUPSI
"At the Department of Innovative Technologies of SUPSI we are active in different education and applied research projects which will contribute to the impact of the LifestyleTech Center in our Region. In particular our Master of Advanced Studies in Fashion Innovation developed in cooperation with Ticinomoda is already an ongoing related action in such a sector, as well as different past and ongoing research projects, where enabling technologies are applied to innovate fashion and lifestyle tech companies."
Emanuele Carpanzano, Director Department of Innovative Technologies of SUPSI
"We are thrilled to announce our participation, as founder member, of the Lifestyle Tech Association. Innovation is and will be an integral part of our development strategy, from sustainable products to innovative sale experiences, from data analytics to internal Company processes"
Carlos Alberini, CEO Guess Inc.
"I am proud to announce our support as a founding member of the Ticino LifestyleTech Competence Center. Investing in talent and encouraging new ways of thinking is critical to enriching our business, leveraging innovation and sustainability for the next generation."
Nicolas Girotto, CEO Bally
"We are really excited to be a partner of the LifestyleTech Association and look forward to working with the whole ecosystem at the Switzerland Innovation Park to drive innovation in Ticino. This platform is not only important for Ticino but for the whole of Switzerland, because it brings together people who are tackling the important issues for Switzerland with creativity, courage, openness and curiosity." 
Marianne Janik, CEO Microsoft Switzerland
 "Fact is that fashion industry is facing a market disruption, for brands the key to survive is beating their competition with innovation. Investing in innovation doesn't need to mean to capture market share. A future proof business model and strong partnerships are paving the way to success. The Lifestyle Tech Association enables collaboration between business, design and production, our innovation hub helps organizations to manage collaboration between brands, employees and partners throughout the fashion innovation lifecycle."
Marco Huwiler, Country Managing Director Accenture Switzerland
"I'm sure that the combination between Hyphen's 20+ years Digital Transformation and Product Content Management experience with SUPSI's deep knowledge on AI technologies will bring an incredible value to the project. Happy to also have a full Hyphen Content Factory installed in the Competence Center: a great occasion for both our partners and Ticino brands in general to experience a new way of producing and managing Brand and product content".
Stefano Righetti, CEO Hyphen-Group
"We are delighted to be founding member of the LifetsyleTech Competence Center Association and offer our co-working spaces in Lugano to the Association, its  members and the Content Innovation Laboratory,"
Serse Bonvini, CEO Dagorà Innovation Hub
LifestyleTech Competence Center Association: A Platform for the Development of Promising Technologies and R&D Collaborations.  
The LSTCC, located in Lugano's Dagorà LifestyleTech Innovation Hub includes offices, innovation and research laboratories, a media center, the latest technological tools for research and design projects and numerous innovation rooms. Universities, brands, investors, technology companies and start-ups have the opportunity to develop ideas, tools and strategies at this location that will drive the next generation of digital companies in Ticino and beyond.